Bücher Mängelexemplare Remittenden Restauflagen Restposten billig günstig gebraucht online kaufen CDs DVDs deutschlandweit versandkostenfrei zu besten Preisen bei www.readmore-shop.de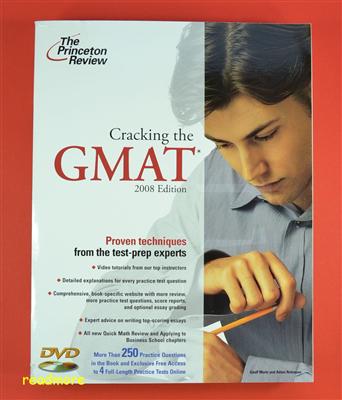 Artikelnummer: 375766111
Gewicht: 0,96
Preis
8,95 €*


Kurzbeschreibung
Beschreibung
Cracking the GMAT
2008 Edition
mit DVD
The Princeton Review
1. Auflage 2008
ISBN 978-0-375-76611-4
"Cracking the GMAT offers major features on DVD, including engaging video tutorials from The Princeton Review's top instructors. We also bring you over 200 practice questions in the book and exclusive free access to 4 practice exams and expert advice online.

Of course, you'll also get all the test-prep techniques you expect from The Princeton Review. In Cracking the GMAT, we'll teach you how to think like the test writers and

·Solve complex sentence correction problems by recognizing key errors
·Crack tough data sufficiency questions using simple techniques
·Practice online with full-length tests, lessons, and drills
·Get the most out of your prep time with the study plan that's right for you

We give you plenty of practice problems to help you master our proven techniques. Our practice questions are just like those you'll see on the real GMAT—but with detailed answers and explanations for every question."
Kennzeichnung als Mängelexemplar, kleine Beschädigungen und leichte Lagerspuren am Einband und an den Buchaußenkanten, DVD original verpackt - selbstverständlich unbenutzt

Das Buch ist in englischer Sprache!